Description
This premium tumbler, personalized to perfection, is the ultimate gift for any occasion. Whether it's a birthday celebration, Christmas surprise, end-of-season appreciation, or any other special moment, this tumbler is guaranteed to impress.
Designed to cater to both baseball and softball players and coaches, it serves as a versatile and thoughtful present. Additionally, it serves as a fantastic accessory for the devoted softball mom or baseball dad, providing them with a stylish way to support their little star during the game.
Crafted with a double-wall stainless steel vacuum insulated construction, this tumbler ensures that beverages remain at the ideal temperature, regardless of the surroundings. Whether it's a rigorous practice session, an intense game night, or a long day at the office, this tumbler has got you covered.
The captivating illustration, featuring baseball bats, balls, and a helmet, along with the custom player's name, is expertly etched onto the tumbler's textured sweat-free coating using laser technology. This meticulous process not only adds a cool and eye-catching aesthetic but also guarantees its long-lasting durability.
What sets this tumbler apart is its high level of customization. It can be tailored to include the player's name or any desired text, making it a truly unique and personalized gift for parents, athletes, or coaches. With a variety of colors available, there's a perfect match for everyone's taste.
Prepare to hit a home run with this remarkable gift that will stand the test of time and create cherished memories for years to come.
Softball/Baseball Bat and Glove 22oz Vacuum Insulated Skinny Tumbler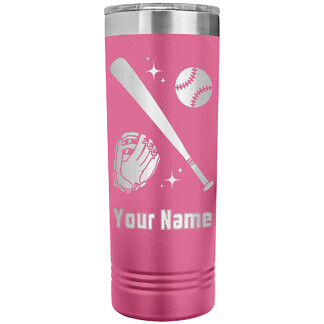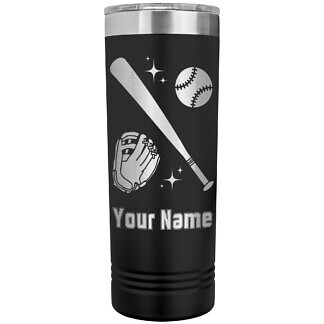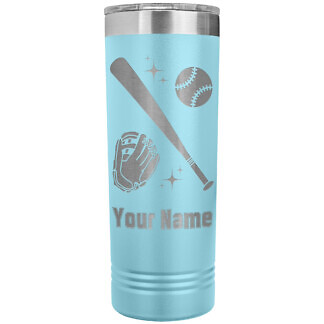 Home Run Guarantee
Designed for baseball and softball players, coaches and parents
Stay cool and play in style
Keeps water cool 2x longer than regular travel mug
Stainless steel, durable design