Description
Looking for a perfect gift for your baseball coach? This premium baseball tumbler is made from stainless steel with a double-wall construction to keep water cool. Surface is finished with textured sweat-free coating, which is burned by laser to show a bare metal where design elements and player's name are placed.
So, this is practical and super cool gift for any baseball coach, parent or player. This is also a good fit for high school or college baseball players who love the sport. We will customize your tumbler with name or text to make it unique and memorable. It's great for office, home, travel and to sip cold or hot drink during your kid's game.
Tumbler features an illustration of a baseball batter hitting a ball with a baseball bat personalized with name or text. It comes in 16 different colors, so there is a match for any team color or personal taste.
Vacuum insulation will guarantee that your beverage stays cool or hot through the practice, game or long school/work hours. It's so much better in retaining cold compared to regular plastic or metal bottle, you will be amazed! With the capacity of 22oz (approximately 600mL) it will hold enough to save you extra trips for refills.
Illustration of the baseball player is etched with the laser on the bottle's textured colored coating, making bare metal visible. It looks really cool and lasts for long time.
Baseball Tumbler with Batter Design – 22oz Stainless Steel Vacuum Insulated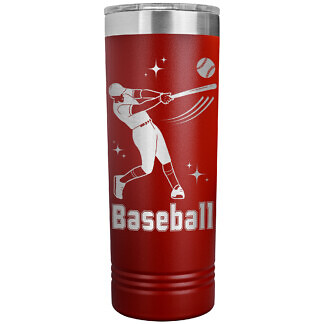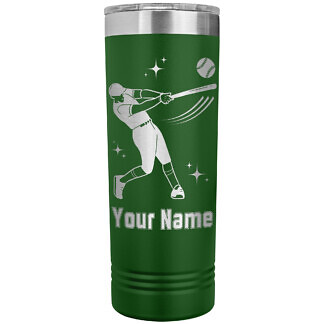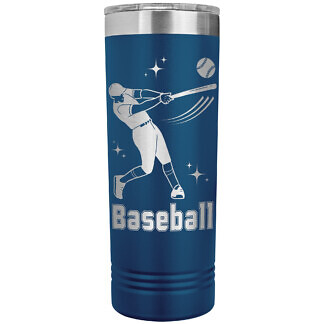 Home Run Guarantee
Designed for baseball and softball players, coaches and parents
Stay cool and play in style
Keeps water cool 2x longer than regular travel mug
Stainless steel, durable design