Description
Stay both stylish and well-hydrated with this customized tennis water bottle, tailored for those who appreciate a personalized touch. Ideal for female tennis players, coaches, or parents nurturing the talents of budding stars. The bottle showcases a refined yet understated design meticulously crafted for women and girls engaged in the sport of tennis.
Crafted with double-wall stainless steel vacuum insulation, this bottle ensures water remains at the optimal temperature throughout practices and matches. Its superior insulation outperforms ordinary plastic or metal bottles when it comes to retaining cold temperatures – a truly impressive feature that will pleasantly surprise you.
The bottle's exterior boasts a laser-etched illustration of a female tennis player, revealing the textured, sweat-free coating and adding a distinctive touch to the sleek metal surface. This embellishment not only looks exceptionally stylish but also maintains its visual appeal over an extended period.
What sets this bottle apart is the option for personalization. Tailor it with the player's name or any other text of your choice to create a genuinely exceptional and one-of-a-kind gift. This thoughtful gesture will undoubtedly be cherished, fostering lasting memories. Furthermore, an array of colors ensures there's a perfect match for every individual's taste.
Tennis Gift for Her – Elegant Laser Etched Personalized Water Bottle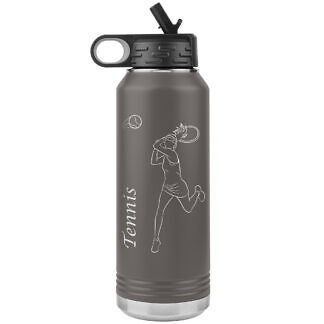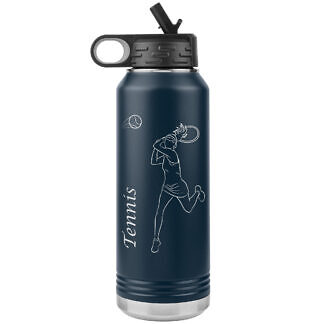 Game Winner Guarantee
Designed for women: tennis players, coaches and parents
Stay cool and play in style
Keeps water cool 2x longer than regular bottle
Stainless steel, durable design