Description
Enjoy your preferred hot or cold beverage in style with this custom volleyball tumbler, designed for players, coaches, and parents alike. This tumbler showcases a personalized coat of arms, featuring the player's name and number, making you feel like a true noble.
The coat of arms design includes essential volleyball elements such as a volleyball net, a player, and, of course, a volleyball to top it off. It adds a touch of uniqueness and personalization to your tumbler.
Crafted with a double-wall stainless steel vacuum insulated construction, this tumbler keeps your drink at the perfect temperature throughout the day. Whether you're at school, in the office, or watching a volleyball practice or game, it outperforms regular plastic or metal bottles when it comes to retaining coldness. Prepare to be amazed!
The illustration of the volleyball player's coat of arms is etched onto the tumbler's textured sweat-free coating using laser technology. This not only gives it a cool appearance but also ensures its durability over time.
Customization is key with this tumbler. Personalize it with the player's number (or initial), name, or any other desired text, such as the team name, to make it a truly exceptional and personalized gift. It's a present that will be cherished, creating lasting memories. And don't forget, there's a color option to suit everyone's taste!
Embrace the noble spirit while sipping from this remarkable tumbler, perfect for volleyball enthusiasts. Its combination of personalization, functionality, and durability ensures that it will bring joy and serve as a lasting memento.
Volleyball Tumbler with Custom Coat of Arms Design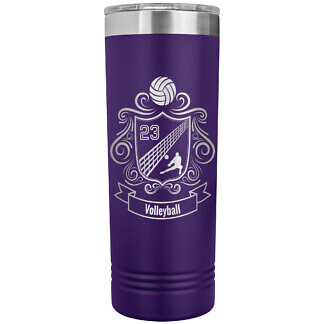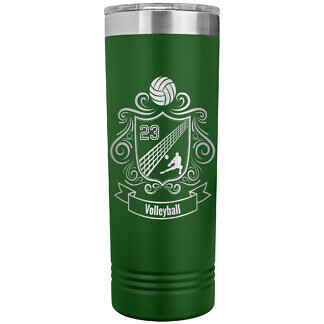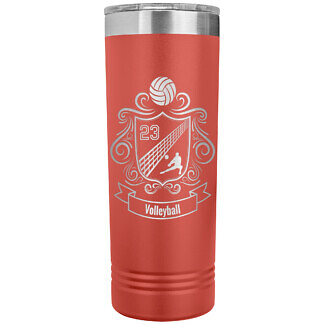 Game Winner Guarantee
Designed for volleyball players, coaches and parents
Love your sport, show it to the world!
Keeps water cool 2x longer than regular mug
Stainless steel, durable design