Description
Introducing this exclusive design created specifically for women and girls who play volleyball, and volleyball parents. Feast your eyes on this exceptional tumbler featuring an illustration of a female volleyball player executing a powerful serve. Take it a step further by personalizing it with a name or any custom text of your choice, making it a truly unique and meaningful gift.
Crafted with a double-wall stainless steel vacuum insulated construction, this tumbler ensures that your favorite beverage remains at the perfect temperature, whether it's icy cold or piping hot. Whether you're on a drive, spending a day at school or the office, or cheering on your child during practices or games, this tumbler is the perfect companion. It's an ideal gift for college students who have a deep love for volleyball and desire to carry a piece of the sport with them at all times.
The captivating illustration of the volleyball player serving the ball is expertly etched onto the tumbler's textured sweat-free coating using laser technology. This not only adds a cool and visually striking touch but also ensures its longevity.
What sets this tumbler apart is the high level of customization it offers. Personalize it with the player's name or any other desired text, transforming it into a truly one-of-a-kind and cherished gift that will create lasting memories. Furthermore, with a variety of colors available, you can select the perfect shade to suit anyone's taste.
Make a lasting impression with this exceptional tumbler, loved by volleyball enthusiasts of all ages. It's a gift that combines personalization, functionality, and style, ensuring it will be treasured for years to come.
Volleyball Girl Tumbler – Stainless Steel, 22oz, Vacuum Insulated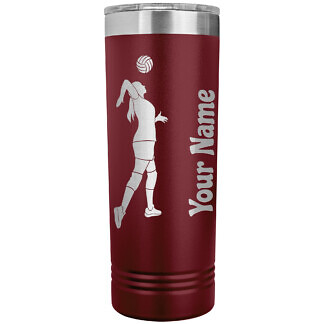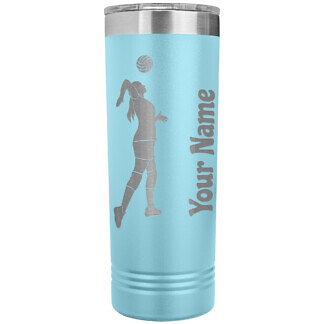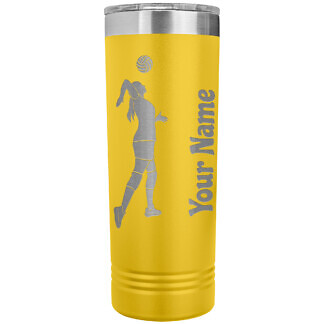 Game Winner Guarantee
Designed for volleyball players, coaches and parents
Love your sport, show it to the world!
Keeps water cool 2x longer than regular mug
Stainless steel, durable design